Public-Private Partnership in Water Supply, Wastewater & Solid Waste Management at Nairobi
Our capacity building seminars are dedicated to General Managers and Top Managers of water and sanitation utilities to help them better project themselves into the future in the short and long term. These seminars are offered to them to renew their ways of doing things, to update them, to make them more relevant, to increase …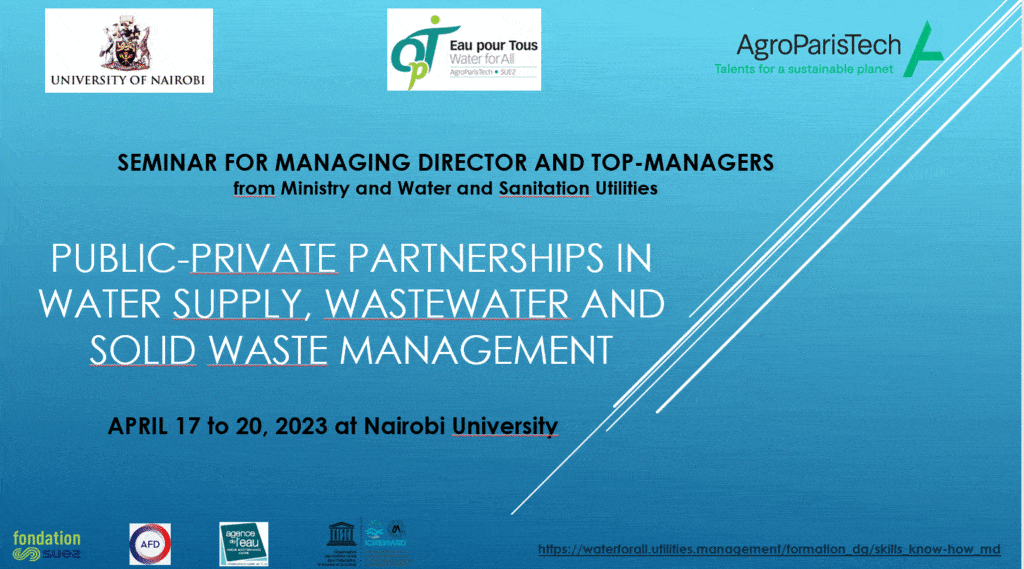 Presentation
Our capacity building seminars are dedicated to General Managers and Top Managers of water and sanitation utilities to help them better project themselves into the future in the short and long term.
These seminars are offered to them to renew their ways of doing things, to update them, to make them more relevant, to increase their capacity to deal with complexity.
You can become a partner of the Chair and finance DGs or top managers from countries that interest you in order to create lasting relationships around water and sanitation
Feel free to download our partnership file
For whom?
Training sessions dedicated to Managing Directors, Top-Managers and High Potential Executive from Ministry
Head of services
Managing directors
Managers of regulatory authority
Secretary of State
National directors in charge of water resources
Operational managers
Training benefits
Urban public services are framed by governance and institutional frameworks that require specific skills in :
Mediation
Negotiation
Ethic
Anti-corruption
These components are an integral part of the know-how of leaders and managers who are confronted with complex situations related to internal stakeholders in public companies (HR management, organization, purchasing, financing management, customer management, subcontractor management, etc.) or external stakeholders (government, financial investors, donors, development banks, etc.).
The "Water for All" Chair on the general management of water and sanitation services proposes through this workshop to :
Draw on an international network of experts with experience who have been confronted with critical situations in the field, requiring sharp "soft power" practices and codes of conduct
Know how to manage integrity within companies, with internal or external actors and human resources
Manage the risks inherent in any large-scale project that requires transparency and solidarity of the actors to 'stay the course' and achieve its objectives
Knowing how to negotiate and take the time to make your actions succeed while being backed up by a commitment to anti-corruption
This is in line with the skills that the "AgroParisTech-SUEZ Chair" disseminates to all the leaders and managers it has trained for 14 years in 54 countries around the world, through all its programs (https://waterforall.utilities.management ).
The cases dealt with during the workshop will be related to water and sanitation, but also to other types of public policies or public companies, particularly in Africa, Asia, Central Europe, etc.
Training contents and sessions
International Experts
Bertrand DARDENNE – General Manager – ASPA Utilities

Jan G. JANSSENS – Managing Director – JJC Advisory Services
Day 1 : Introducing and scoping PPP concept
Explain the definition of the PPP financing tool
Identify the main characteristics of a PPP financing structure
Understand the main conventional or publicly-financed procurement methods and what differentiates them from PPPs
Structuration of a PPP contract
Day 2 : Structuring PPP project and process cycle
Explain why selection, preparation and transparent tender processes matter
Identify the main elements of a PPP contract and the different roles and obligations of the various parties involved
PPP project appraisal process and key assessments including indicators and elements for Bankable PPP project
The importance of contractual revenue
What to look out for from a Task Manager / Investment Officer perspective when reviewing / marking up Loan Agreements
Day 3 : Review of key PPP finance and project agreements
What to look out for from a Task Manager / Investment Officer perspective when reviewing / marking up Concession Agreements
What to look out for from a Task Manager / Investment Officer perspective when reviewing / marking up EPC contracts and Operation & Maintenance Agreements
Day 4 : PPP project management
What constitutes a successful project and why projects may fail
Demonstrate the PPP process cycle and the main phases (from identification to contract management)
Considerations for the procuring authority regarding financial aspects
Potential pitfalls and concerns
PEDAGOGICAL METHODS : case studies on PPP project – a « walk through » of these projects from their origination, assessment stages right through commercial and financial close.
Bertrand DARDENNE

Bertrand DARDENNE is a civil engineer with over 25 years of experience in the water sector, mainly in developing countries. He is a former student of the French Polytechnic School and has a PhD in development economics from the University of La Sorbonne in Paris.

As an operator of water supply companies, he has held senior executive positions in branches of the Générale des Eaux (Veolia Group) and Lyonnaise des Eaux, where he was the managing director of LYSA, a subsidiary in charge of technical operations for numerous international services of the group. Since 2002, he has focused on consultancy work in the water sector. His skills especially cover corporate development and the engineering of public-private partnerships, the economic analysis of operating performance, assistance in financial engineering and technical assistance in business management. Mozambique, Benin, Togo, Senegal, Mali, Morocco, Vietnam and Brazil are some of the countries where he has worked in the past three years.

He has published several books and articles on the development of water utilities. As such, his support to the OpT International Executive Master will enable the examination of a wide range of case studies that he has encountered in the field and has sometimes solved and what has happened since.

Jan JANSSENS

Jan JANSSENS is the Managing Director of JJC Advisory Services, a Swiss-based consulting company. Her main area of ​​expertise is strategic advice and capacity building for institutional reform of the water sector, water services development and public-private partnerships (PPPs). He has more than 35 years of experience in the water and sanitation sector, in projects for major international financial institutions, including the World Bank, the European Investment Bank and local actors ( governments and public or private operators). He has led numerous PPP projects and consultancy assignments in water infrastructure and has worked in sub-Saharan Africa, North Africa, the Middle East and Asia. He is also a member of the AIT Advisory Group for Low and Middle Income Countries (LAMIC) and the International Council (IC) of the American Water Works Association (AWWA). In 2008, he received the Honorary Membership Medal from the African Water Association (AFWA). In 2010, he became an Honorary Associate of the UNESCO Center for Water Law, Politics and Science (University of Dundee, Scotland, United Kingdom). He holds an MBA from Vlerick Gent-Leuven Business School and was a student at IMD Lausanne.
LOGISTICS
April 17 to 20,2023 (4 days training )
Nairobi University (https://www.uonbi.ac.ke )
Participants from Nairobi : 4447 euros (coffee-breaks and lunches included)
10% if registration 3 months prior seminar
10% more off if 2 or more registered from the same Ministry or company
Cost : 5047 euros
(accommodation 4* hotel, transfers, coffee-breaks and lunches included)
10% more off if 2 or more registered from the same ministry or company
REGISTRATION : sandra.ceschin@agroparistech.fr
description du partenaire/accréditeur