Capacity-building seminars for Managing Directors
Satisfy the commitments to the populations while taking into account the constraints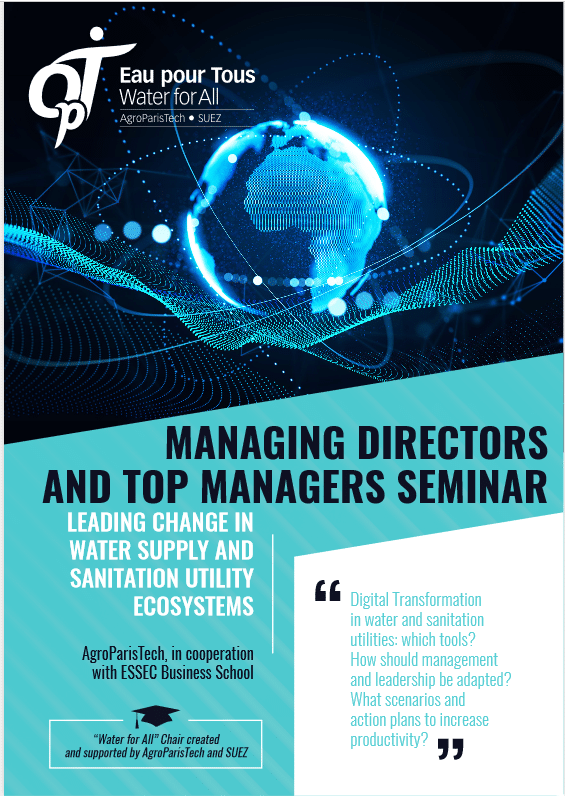 Presentation
Our capacity building seminars are dedicated to General Managers and Top Managers of water and sanitation utilities to help them better project themselves into the future in the short and long term.
These seminars are offered to them to renew their ways of doing things, to update them, to make them more relevant, to increase their capacity to deal with complexity.
You can become a partner of the Chair and finance DGs or top managers from countries that interest you in order to create lasting relationships around water and sanitation
Feel free to dowload our partnership file
For whom?
Training sessions dedicated to the Chief Executive Officer and Change Leaders
Head of services
Managing directors
Managers of regulatory authority
Secretary of State
National directors in charge of water resources
Operational managers
Training benefits
Between 5 and 8 days, these seminars in residential mode allow you to master :
– Strategic management and prospective analyses over 10 years
– The leading change and digital transformation of water and sanitation services
– The Water and Energy Nexus
– Governance of urban sanitation (collective and non-collective)
– Water resources mobilization and climate change
as well as other topics crucial for the sustainability of your services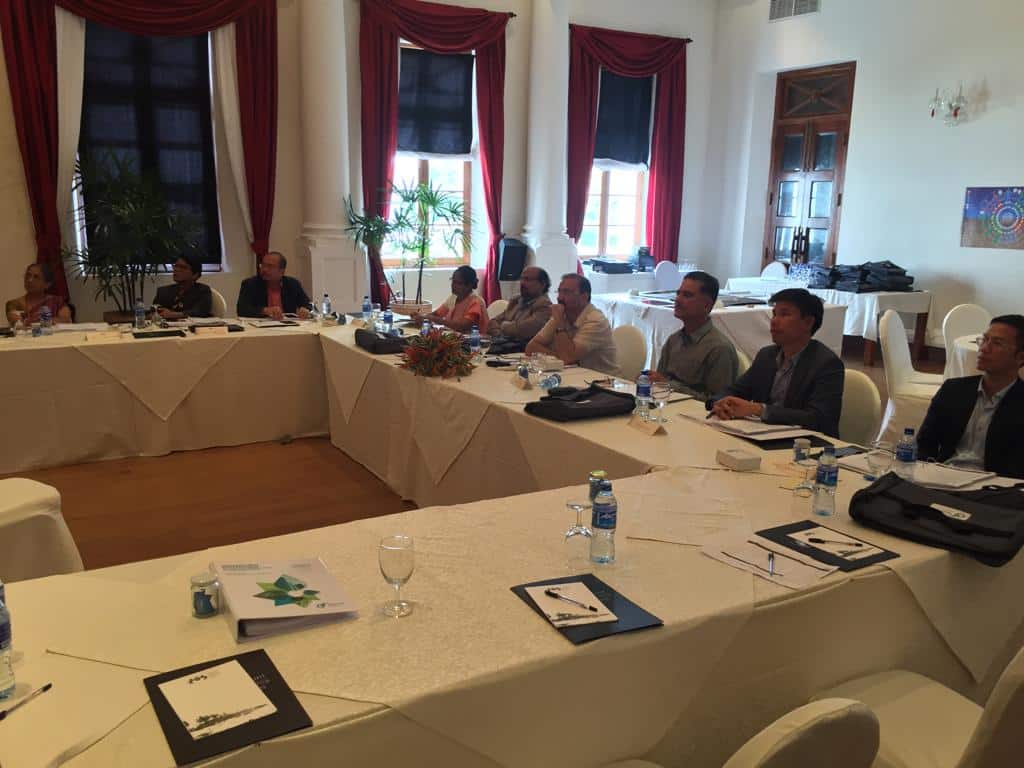 Digital Transformation in water and sanitation utilities: which tools?
How should management and leadership be adapted?
What scenarios and action plans to increase productivity?
Training contents and sessions
This seminar is dedicated to decision-makers, Top managers of the urban water supply and sanitation services and to "strategists" who "build and anticipate" the future, to understand the managerial and organisational issues of change management and the behaviour of people in various ecosystems.
HOW TO ANTICIPATE & LEAD DIGITAL TRANSFORMATION?
Day 1: The future of decision-making (Laurent BIBARD)
Knowing and acting in complexity
Day 2: Leadership and new management methods (David SLUSS)
Challenges of personal commitment in the exercise of this mission
Developing one's skills with regard to the managerial model of the companies
Day 3: Leading Change (Jean-François NANTEL)
Acquire managerial tools to help your teams adopt a posture of change or even transformation
Day 4: Digital transformation (Yan LI & Thomas PERIANU)
Snapshot of digital transformation in Asia / Africa
Digital leadership opportunities and challenges
Day 5: Return of experience from concrete players and entreprises and field cases in the "Water for All" chair
BIBARD Laurent

Laurent Bibard is Professor of Management at ESSEC Business School.

He is the Head of the Edgar Morin Chair on complexity. He was Dean for the MSc program as well as the Executive MBA between 2005 and 2010. His main interests are on the complexity of organizations, decision-making under uncertainty, ethics and leadership, and gender.

He last published book is together with Edgar Morin. His next book titled A Phénoménology of Sexualities will be published in October 2020.

NANTEL Jean-François

Jean-François Nantel was born in Montreal, Canada and and spent the first part of his career in Canada. After working for nearly a decade in aeronautics as a project manager at Bombardier Aerospace, he worked for Deloitte Consulting as a senior consultant and for Nortel Networks in Europe to carry out various manufacturing transfer mandates and manage strategic initiatives.

Since 2008, he has decided to devote himself specifically to consulting and training in the areas of project management, change management and agility. He is currently involved with various companies and business schools, in Canada and in Europe where he has intevened in executive training for companies as diverse as SAP, Servier or Delphi.

He can be heard weekly on the « Innovation, Agilité et Excellence » podcast with associates at Montreal-based Intellia Consulting and he contributes occasionally to Questions de Management.

He is a graduate of Ecole Polytechnique de Montréal in Aeronautical Engineering and of Ecole des Hautes Etudes Commerciales (HEC) Montréal with an MBA in International Management.

SLUSS David

David
M Sluss Ph D is active educating high potential executives on leadership, high performance teams, and leading transformation efforts (with a focus on digital transformations)
He takes a diagnostic, analytical, and behavioral approach to facilitating leadership development As an expert in role transitions, he enjoys helping professionals, managers, and executives
prepare themselves for their next role.

He works with organizations throughout the U S Latin America, and Europe Fluent in Spanish, he has worked in Mexico, Puerto Rico, and Colombia.  A partial list includes Abbott Laboratories (U S and Puerto Rico), Argos ( Baxter Pharmaceuticals ( Cisco Systems, Clorox, Coca Cola, Google, IBM (U S Ireland), McKesson, Rohlig ( SCTE, Simpson Industries ( OSCE, A 1 ( and Verbund (Austria).

Prior to his doctoral studies, he was Vice President and Partner at PathWise (a boutique management training consultancy) He designed and facilitated "real life" application workshops
on topics such as leadership, performance coaching, problem solving/decision making, and project management for clients within the technology and pharmaceutical sectors.
His research focuses on new leader development as well as executive and professional on boarding via a relational identity lens He explores these processes across different contexts
telemarketing newcomers, technical professionals, contingent workers, and nomadic professionals He has published research in the Academy of Management Journal, Academy of
Management Review, Journal of Applied Psychology, Journal of Vocational Behavior, and Organization Science.

He is currently serving on the editorial boards for Academy of Management Review, Journal of Applied Psychology, and Journal of Management.

LI Yan

Yan LI is Professor, Depart of Information Systems, Decision Science and Statistics. She joined ESSEC in 2007 and held a PhD in Information Systems, National University of Singapore and a MSc in Information Systems, National University of Singapore

She teaches in a variety of MBA, EMBA, MiM, SMIB, BBA and Executive Education programs at ESSEC. Her current research interests include digital transformation and big data analytics, consumer behavior in mobile social network, and strategies in IT offshoring. Her research papers have appeared in top-tier information systems and management conferences and journals such as Journal of the Association of Information Systems, IEEE Transactions on Engineering Management, Information & Management, Decision Support Systems and Journal of Business Research. Sha has been presenting her research work at renowned international conferences such as International Conference of Information Systems. Her ideas have been featured in print media such as the Forbes, Nikkei Asia, Business Times, Tech Wire Asia, Singapore Business Review, and Asia Scientist.

She has been giving master classes to the public and at renowned universities and providing executive training for enterprises such as Singapore Press Holdings, Resort World Sentosa, Danone and senior managers from Singapore, Hong Kong, Malaysia, Arabic Gulf region, France, China and Mauritius. Yan has also been very actively involved in industrial consulting projects and a number of her cases about innovative business models in Asia have been adopted by CEIBS (中欧商学院) MBA Case Library.