ADVANCED MASTER "Water for All" – OpT
To diagnose its service, develop its strategy and implement your achievements at the heart of your service and in the field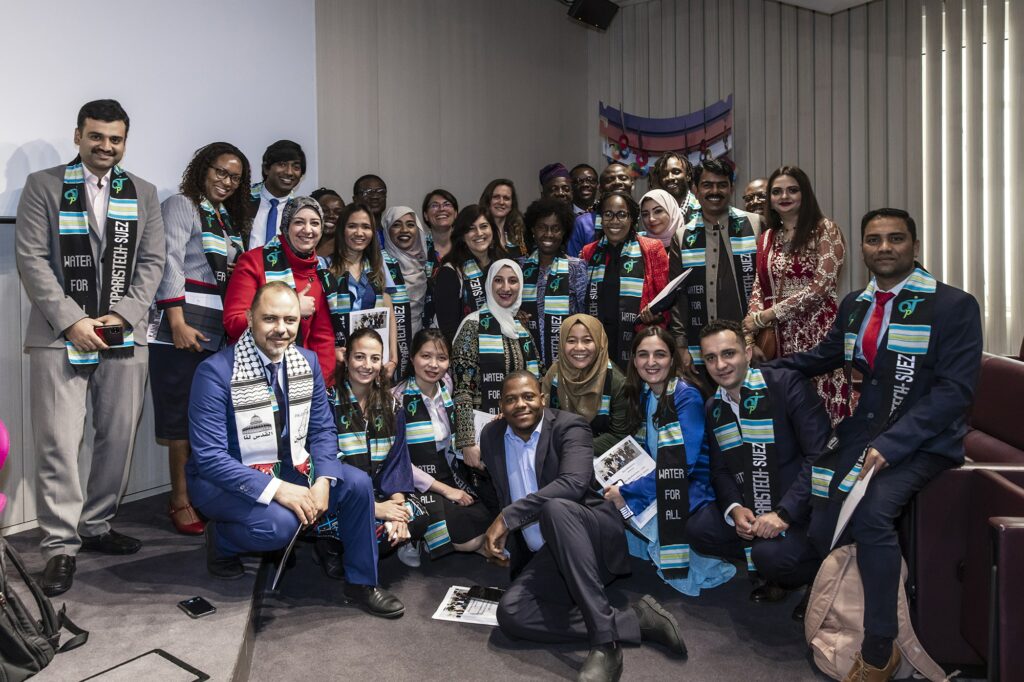 Presentation
This SPECIALIZED MASTER created in 2009 under the name of ADVANCED MASTER "Water for All" – OpT is one of the components of the AgroParisTech  "SUEZ – General Management of Urban Water and Sanitation Services".
It is aimed at Managers, high-potential executives as well as Operational or Functional Directors of urban water and/or sanitation utilities of public, private or mixed status who have been working in their department for at least 5 years..
It is also intended for any experienced professional presented by his company, its management or its supervisory authority.
It is accredited by the Conférence des Grandes Écoles (CGE) of Paris and is certified in the National Register of Professional Certifications (RNCP) European level 7 NSF Code 341.
It is taught in French or English.
The objective of this ADVANCED MASTER is to reinforce skills, progress in their function and prepare trained managers for management functions.
This objective is achieved through the development of a strategic action plan within their scope of service.
Please download our brochure
For whom?
The International Executive Master is aimed at managers and executives of urban water and sanitation utilities of public, private or mixed status. It is also aimed at any experienced professional presented by his company, management or supervisory authority
Managers
Engineers
Executives
Training benefits
The SPECIALIZED MASTER "Water for All" – OpT  is a unique training course that aims to strengthen your skills as managers of urban drinking water and sanitation services in developing or emerging countries to help you become future leaders of transformation in your company.
The training is organized to lead you towards the three following dimensions:
Development of your managerial knowledge
Development of your sector knowledge
Personal transformation to become a change leader
You will have the ability to take on the dual responsibility, both strategic and operational, necessary to successfully run your department and your teams.
You will be able to :
Ensure the definition of the strategy for your department in the short, medium and long term
Supervise and manage the organizational, technical, human and financial means to achieve the assigned objectives
Carry out communication and representation actions with key players in the socio-economic environment
Conduct fundraising policy and negotiations with key financial partners
Contribute to the definition and monitoring of the implementation of national policies on drinking water supply and sanitation at the national level and specifically in urban centres.
Contribute to the definition and implementation of the institutional and regulatory system of the sector, including private and public operators.
Employer's profits
The manager is trained to propose and carry out the change management as soon as he returns to the company. In a management position, he or she implements his or her knowledge at the heart of his or her department and in the field to apply and share it with the teams in place.
At the end of the training he will be able to :
make a diagnosis of the situation of the different departments
develop strategies in conjunction with the various Operations Managers to improve the technical, social and financial situation
apply sustainable management methods
define and begin to initiate the dynamics of reforms at the level of its department or even of the company
Trainers
The training is provided by our expert lecturers, high-profiles speakers and academic partners in the South  with at least 10 years of international experience in the field in Africa or Asia.
The SPECIALIZED MASTER "Water for All" – OpT is currently working with 2 new academic partners in the South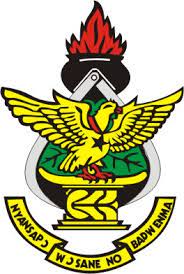 Kwame Nkrumah University of Science and Technology from Kumasi in Ghana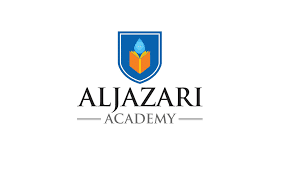 Al-Jazari Water Academy in the Punjab province in Pakistan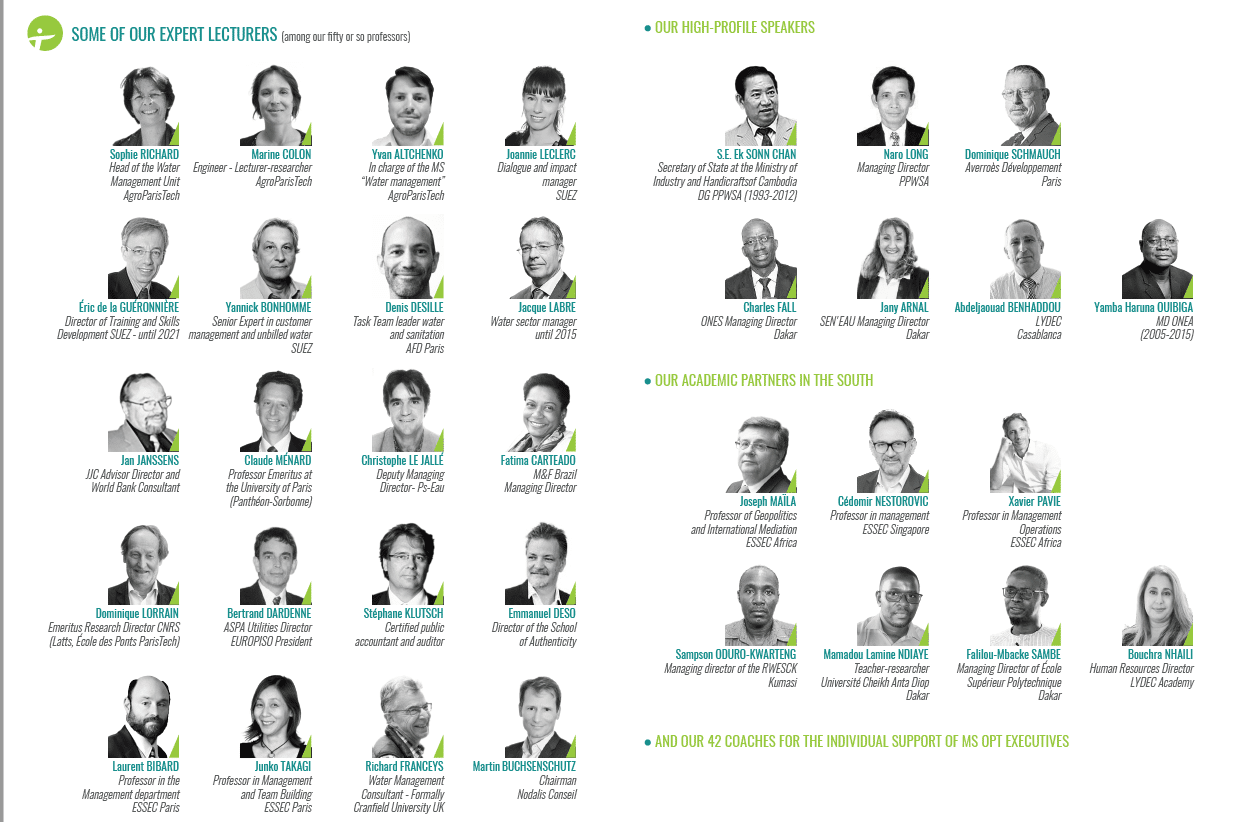 Formation
Its final objective is to provide managers with strategic and operational capacities to guarantee a quality, continuous and accessible service to the entire population of their city or even their country when the action plan they have to carry out extends over a national perimeter.
The training adapts to your professional reality by offering you a work-study program (3  months in France, 4 weeks abroad and then 2 months in France).
To be a candidate for this training course
Please download the file in the "for more information" section below. It has to be properly filled by you, stamped and signed by your MD and sent back with a complete CV, an ID picture  and the copy of your highest diploma  by email to charlotte.armant@agroparistech.fr with in copy jean-antoine.faby@agroparistech.fr
3-step training program
Step 1:

3 months in Montpellier (France)

Thematic Unit 1: Customer Management and operation
Customer management
Water loss optimisation and management
CSR
Securing the service water resources
Circular economy
Energy management
Thematic Unit2: Economics and finance of the service
Financial management
Water prices
Finacial tool (OpT modele)
Thematic Unit 3: Governance and Institutional relations
Institutional dynamics
Regulation
Governance of cities and megacities
Contractual engineering and Public-Private Partnerships
Presentation by the Agence Française de Développement (AFD)
Thematic Unit 5: HR Management and leading change
Managerial communication technics
HR management
Health and safety at work
Team building
Thematic Unit 6: Sanitation (new for this session 2023-24)

The following modules will be developed around sanitation
OpT financial model
Financial management
Presentation by the Agence Française de Développement (AFD)
Securing the service water resources
Non-revenue water
Sanitation
Circular economy
Access to essential services and social engineering
Customer management
Benchmarking of the services
Innovation in sanitation
Thematic Unit 7: Strategy and management
Strategic management
Introduction to the complexity of organisations
Benchmarking of the services
Introduction to multi cultural management issues
Operations management: project and process management
Coaching Sessions
3 sessions in time 1, 2 sessions in time 2 and 2 sessions in time 3 between you and your coach.
The coach is your contact person. He will support you in your professional and personal development throughout the IEM-OpT training.
Step 2

: Immersion and case study K-OPT – 4 weeks in Africa or Asia – Thematic Unit 4

They are all based on the following pedagogical fundamentals:
• Analysing in detail the case of the water or sanitation service to identify the key factors
for its success or failure
• Strengthening managerial and operational skills
• Managing "data" to improve management
• Favouring meetings and exchanges with local experts in the field
• Modelling scenarios for the service over the next 5/10 years
Step 3

: 2 months in Montpellier and Paris (France)
Leadership and ethic
Innovation in general
Innovation in water sector
Process management
Strategy management
Access to essentials services and social engineering
SIG department management
Crisis management
The start of the 2023-2024 school year will be in two stages
A virtual pre-entry at the end of November 2022 with information and training sessions
A physical opening in Montpellier on April 24, 2023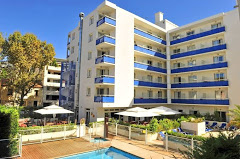 Residence Goélia Sun City – Montpellier***
You will be accommodated in a fully equipped individual studio. The residence is a 10-minute walk from all the facilities of Montpellier city centre.
A shuttle bus will pick you up and bring you back to the AgroParisTech centre in the morning and evening.
https://www.goelia.com/fr/residence-vacances/montpellier/goelia-sun-city
You must be a manager of urban drinking water or sanitation services, of public, private or mixed status.
You may come from a Ministry in charge of water, sanitation or hydraulics, a regulatory body or a heritage company.
You must have a BAC+5 or possibly a BAC+4.
You must have significant experience in a position of responsibility within your department for at least 5 years.
Your objective must be to improve the quality of the services offered within your entity from an operational and/or managerial point of view.
You must have the endorsement of your management to follow the training, which must have entrusted you with a mission of change management within your company.
You must have a very good level of both oral and written English.
Testimonials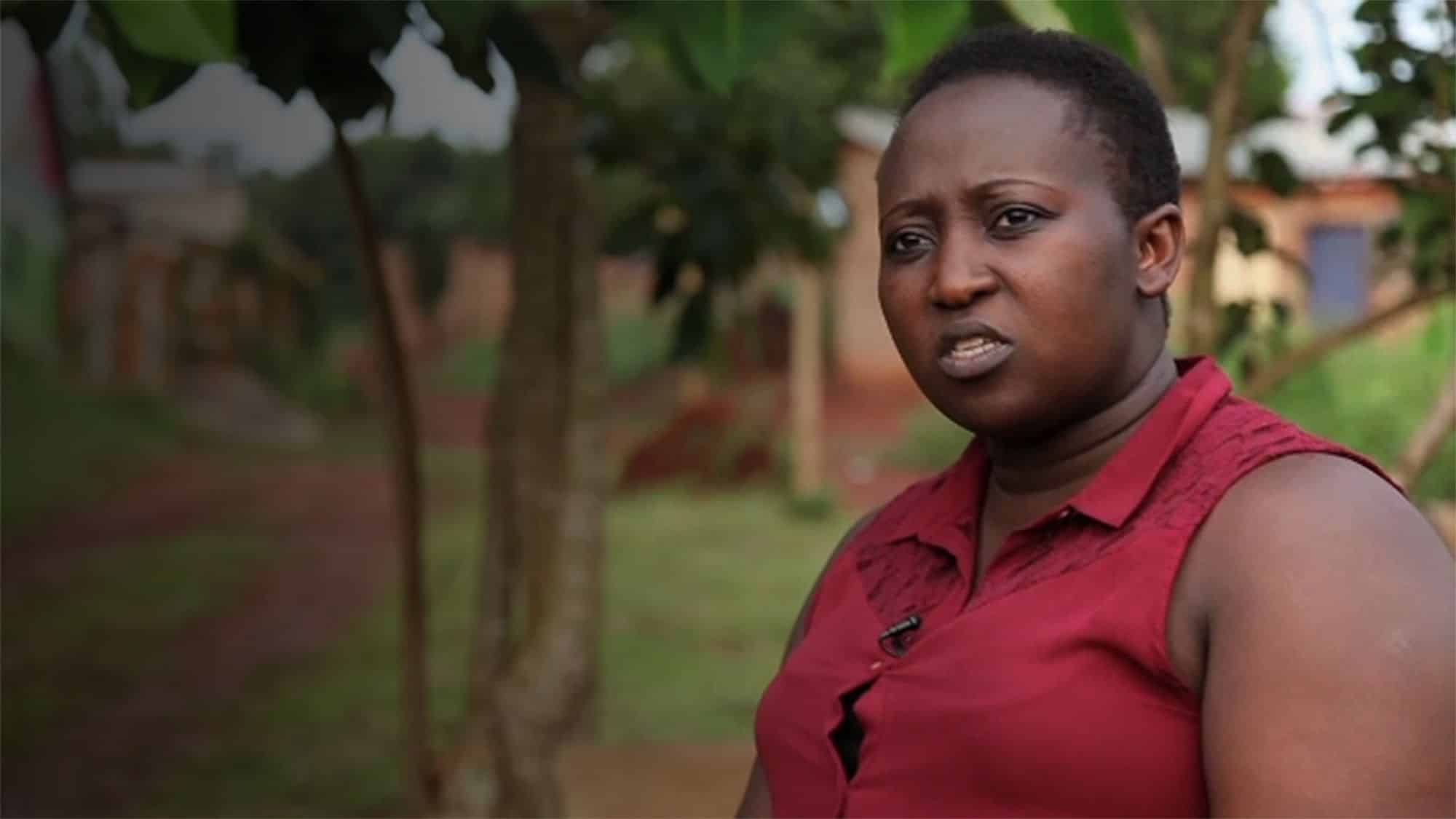 "This training is very interesting, very different from what we know academically. It's a very pragmatic master's degree… allowing me to learn from experiences in other countries."
Freda BUGENYI
Manager and Senior Engineer-NWSC-Kampala (UGANDA)
Financial support
The chair can help you to find funding for your training grant (22,000 euros) or your life grant (12,000 euros).
Joint approaches can be made to the financial sponsors who work with your company.