International Executive Master "Water for All" – OpT
To diagnose its service, develop its strategy and implement your achievements at the heart of your service and in the field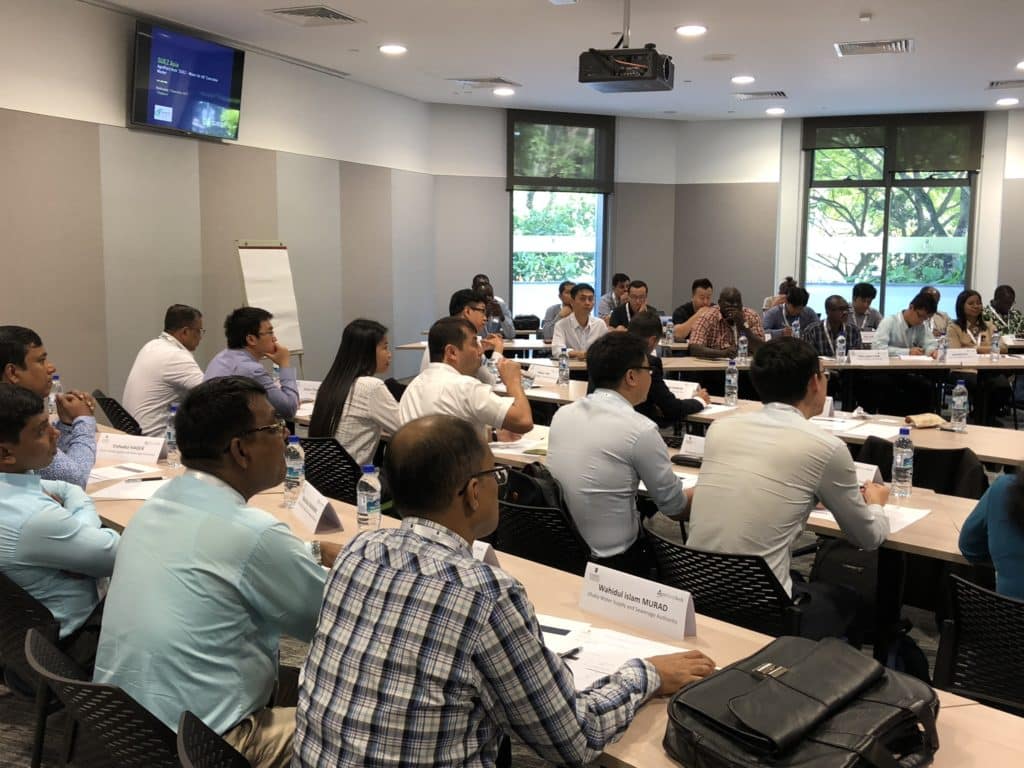 Presentation
This SPECIALIZED MASTER created in 2009 under the name of International Executive Master "Water for All" – OpT is one of the components of the AgroParisTech  "SUEZ – General Management of Urban Water and Sanitation Services".
It is aimed at Managers, high-potential executives as well as Operational or Functional Directors of urban water and/or sanitation utilities of public, private or mixed status who have been working in their department for at least 5 years..
It is also intended for any experienced professional presented by his company, its management or its supervisory authority.
It is accredited by the Conférence des Grandes Ecoles (CGE) of Paris and is certified in the National Register of Professional Certifications (RNCP) level 1 in France.
It is taught in French or English.
The objective of this SPECIALIZED MASTER is to reinforce skills, progress in their function and prepare trained managers for management functions.
This objective is achieved through the development of a strategic action plan within their scope of service.
For whom?
The International Executive Master is aimed at managers and executives of urban water and sanitation utilities of public, private or mixed status. It is also aimed at any experienced professional presented by his company, management or supervisory authority
Managers
Engineers
Executives
Training benefits
The International Executive Master  is a unique training course that aims to strengthen your skills as managers of urban drinking water and sanitation services in developing or emerging countries to help you become future leaders of transformation in your company.
The training is organized to lead you towards the three following dimensions:
Development of your managerial knowledge
Development of your sector knowledge
Personal transformation to become a change leader
You will have the ability to take on the dual responsibility, both strategic and operational, necessary to successfully run your department and your teams.
You will be able to :
Ensure the definition of the strategy for your department in the short, medium and long term
Supervise and manage the organizational, technical, human and financial means to achieve the assigned objectives
Carry out communication and representation actions with key players in the socio-economic environment
Conduct fundraising policy and negotiations with key financial partners
Contribute to the definition and monitoring of the implementation of national policies on drinking water supply and sanitation at the national level and specifically in urban centres.
Contribute to the definition and implementation of the institutional and regulatory system of the sector, including private and public operators.
Employer's profits
The manager is trained to propose and carry out the change management as soon as he returns to the company. In a management position, he or she implements his or her knowledge at the heart of his or her department and in the field to apply and share it with the teams in place.
At the end of the training he will be able to :
make a diagnosis of the situation of the different departments
develop strategies in conjunction with the various Operations Managers to improve the technical, social and financial situation
apply sustainable management methods
define and begin to initiate the dynamics of reforms at the level of its department or even of the company
Trainers
The training is provided by professionals with at least 10 years of international experience in the field in Africa or Asia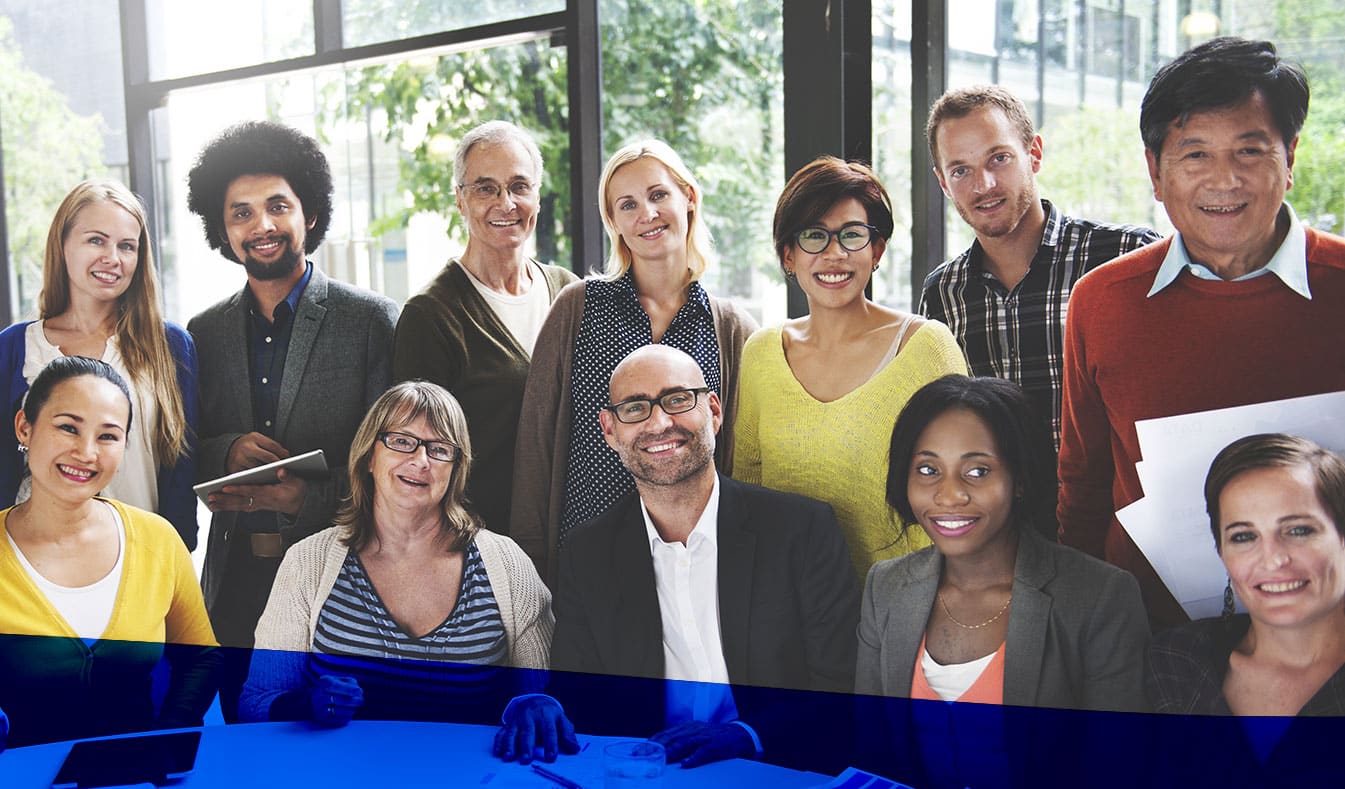 Formation
Its final objective is to provide managers with strategic and operational capacities to guarantee a quality, continuous and accessible service to the entire population of their city or even their country when the action plan they have to carry out extends over a national perimeter.
The training adapts to your professional reality by offering you a work-study program (3  months in France, 4 weeks abroad and then 1 month and a half  in France).
To be a candidate for this training course
In order to follow this program, please download the file below and return it to us via the online form with a complete CV and a ID picture or by email to opt@agroparistech.fr.
The training program will be in 3 stages (subject to change)
Time 1: 3 months in Montpellier (France)
The following modules will be dispensed:
Office tools (1 day face-to-face training)
Customer Management (4 days of face-to-face training)
Understanding and meeting the demand for water and sanitation (3 days of face-to-face training and 1 day of e-learning)
Optimization of yields and management of water losses (2 days of face-to-face training and 2 days of e-learning)
Financial management (1/2 day e-learning training)
Financial Tools for Service Strengthening (1 day e-learning training)
Securing water, climate change and energy needs (5 days of face-to-face training)
Managerial communication techniques (2 days of face-to-face training)
HR Management and Occupational Health and Safety (3 days of face-to-face training)
Operational and process management (2 days of face-to-face training)
Water and sanitation strategy and management (6 days of face-to-face training)
Cost management (1 day e-learning training)
Institutional actions (4 days of face-to-face training)
Regulation (2 days of face-to-face training)
Governance of cities and infrastructures (1 day of e-learning training)
Contract engineering (2 days of face-to-face training)
Benchmarking of services – Opt tools (2 days of face-to-face training and 1 day of e-learning)
Sanitation (2 days of face-to-face training and 1 day of e-learning)
Coaching Sessions
3 sessions in time 1, 2 sessions in time 2 and 2 sessions in time 3 between you and your coach.
The coach is your contact person. He will support you in your professional and personal development throughout the IEM-OpT training.
Time 2: 4 weeks abroad (Africa)
Immersion in a renowned partner university and management case study over 10 to 20 years at the heart of a large-scale water service in a city in the South.
Time3: 1 month and a half in Montpellier (France)
The following modules will be dispensed
Operational and process management (2 days of face-to-face training)
Strategy and management (6 days face-to-face)
Innovation management (2 days face-to-face and 3 days e-learning)
Presentation of your work
Course of the training – 14 months program with 5 months abroad (France or Africa) in 3 stages

Time 1 – 3 months – Montpellier (France) – face-to-face, blended and e-learning courses
Learning concepts and analysis keys
Application of management tools on your operating perimeters
Application of forward-looking financial and strategic methods
These notions will help you throughout the training to carry out the analysis of your service for the realization of your strategic action plan which will be built according to 3 phases:
Diagnosis of your department and clarification of the issues to be addressed
prospective analysis, definition of priorities and medium and long-term vision of strategic planning
3 to 15 year operational or managerial plan
Time 2 – 4 weeks – Africa or Asia (depending on your experience)
Immersion in a renowned partner university
Management case study over 10 to 20 years at the heart of a large-scale water service in a city in the South
Time 3 – 1 month and a half – Montpellier (France) – face-to-face, blended or e-learning courses
Completion of your action plan
Defense of your professional thesis
Visits to partner Water and Sanitation Agencies and Services
Graduation Ceremony
Henri BARTHALAN

Henri BARTHALAN is graduated from Ecole des Mines de Paris. He started his career in 1972 at Lyonnaise des Eaux as technical engineer and as such has achieved the construction of water production plants and distribution networks. He managed technically and commercially a regional area in the south west of France. Since 1981, he has been in charge of various administrative missions including management control but mainly customer services. He has managed the entire customer services of regional centers (back-office, front office including call center). At the headquarters, he has had in charge the coordination of the customer activities and operational methods of 30 regional centers (harmonization of the methods – creation and coordination of a best practices exchange network –  He did expertise and assistance missions with the regional centers). More recently, in Italy, he was customer manager for a company serving 350 000 customers and implemented a new organisation introducing a systematic rationalisation approach of the work methods and organisations. During his career, he has achieved a number of expertise and assistance missions in various countries.

Antony ALBARET

Antony ALBARET is a graduate of the Ecole Spéciale des Travaux Publics in Paris and a Master of Business Administration specialization "Management and European Commercial Law". Joined Lyonnaise des Eaux in 1996 as a management controller, he first occupied administrative positions in the Region, at Headquarters in the Information Systems Department, before moving on to the Customer Billing activity. In charge of animating the billing process of the Works made up of 100 people and to accompany the transformation of the company towards a new Customer Information System and a new organization. He has been actively involved in the creation of the Non- Revenue Water Customer Department of Suez Eau France and has been co-coordinating this department for 2 years for all regions of France.

Julien GABERT

Julien GABERT is a graduate engineer from Ecole Polytechnique (Paris, France) and Mc Gill University (Montreal, Canada). He is specialized in the field of essential urban services (water, sanitation, waste management) in developing countries. His areas of expertise include: carrying out diagnostic and capitalisation studies in the field of water and sanitation; setting up development projects (technical, financial, institutional, etc.); operational implementation of development projects; networking of stakeholders and organisation of conferences and workshops. In 2004-2005, he carried out numerous field study missions in Asia, Africa and Latin America within the framework of the NGO Experians. He then worked for three years in Niger with the NGO RAIL-Niger where he created and managed the "Sanitation and Waste Management" department. He joined GRET in 2009 where he works as a project manager, providing technical assistance and methodological support to teams in the field (Haiti, Madagascar, Senegal, Mauritania, Cambodia and Laos) and expertise in sanitation (studies, drafting of technical and methodological guides, training). He has also been treasurer and leader of the Projection network (a network of young professionals working in essential urban services in the South) since 2008.

He is currently Executive Director of Carapace Habitat.

Christophe LE JALLÉ

Christophe Le JALLÉ has a university background in environmental studies. Since 1994, he worked in the pS-Eau (Water Solidarity Program) as director of research and deputy director of the program. Its specific objective is the water supply and sanitation in developing countries (www.pseau.org/rd). Since 2000 its main activities focus on issues of African Sanitation: coordination of urban sanitation research program in 16 African countries (of www.pseau.org/epa/gdda), coordinating a manual "developing a national policy and strategies for sanitation" (www.pseau.org/en/national-sanitation-policies), coordination of an experimental program to support the development of concerted strategies of municipal services water and sanitation (www.pseau.org/en/cms), designing and coordinating a series of methodological guides on sanitation (of www.pseau.org/en/cms/guides), co- coordinating a study on non-conventional sanitation (www.pseau.org/en/non-conventional-sewerage-services), etc.

He is strongly involved in international processes, and currently coordinator of the theme on sanitation for the 7th World Water Forum.

Daniel LECOEUVRE

Daniel LECOEUVRE is a Certified Engineer in Production and Inventory Management (CPIM by APICS) and Project Management (Georgetown University of Washington). He has over 50 years of experience in managing people, projects, and in sharing his industrial knowledge with various audience. He is independent teacher in public and private universities and in enterprises. He is lecturing on global supply chain management, change management, organization, quality and project management. Previously, as international consultant with I.C.G. he has led projects in a wide range of enterprises and has successfully introduced improvements in cost, responsiveness and quality together with process simplifications. He began his career with I.B.M. where he has successfully managed departments and projects in their strategies and operations during more than 25 years. He is an engineer graduated in electronic and mechanic sciences. He received certifications CPIM in the American Production and Inventory Control Society and Project Management in The George Washington University.

He created numerous organization tools and wrote scientific papers with IBM and Technique De L'Ingénieur.

Catherine SILVESTRI-GUR

Ph. Doctorate in Econometrics Sciences, Catherine SILVESTRI-GUR is an independent consultant, expert in decision sciences. She's working since 12 years as project leader for ACNielsen, AXA, AXCIOM, BNP Leasing, Ernst and Young, EDF …. She's doing research and development: programming complex statistics methods, data-mining models, and CRM analytics studies. She developed these last years, specific skills in scoring, segmentation for Business Intelligence, and project management. She's teaching in French universities and high school since 2004:  University of Pantheon-Assas (Paris 2), Master ISF « Methods and scoring technics», SUPINFO Paris, Master 1 et 2 « Business Intelligence with Oracle BI Publisher and Qlikview », Institut Mines Telecom Business School Evry, MSC Marketing « Data Analysis avec SAS Enterprise Guide », ISEM Montpellier, Master IRC « Methods of Data-mining with SAS V9 », Business School Montpellier, Ecole des Mines d'Alès, Ecole des Avocats de Montpellier  EFACS…

Bertrand DARDENNE

Bertrand DARDENNE is a civil engineer with over 25 years of experience in the water sector, mainly in developing countries. He is a former student of the French Polytechnic School and has a PhD in development economics from the University of La Sorbonne in Paris.

As an operator of water supply companies, he has held senior executive positions in branches of the Générale des Eaux (Veolia Group) and Lyonnaise des Eaux, where he was the managing director of LYSA, a subsidiary in charge of technical operations for numerous international services of the group. Since 2002, he has focused on consultancy work in the water sector. His skills especially cover corporate development and the engineering of public-private partnerships, the economic analysis of operating performance, assistance in financial engineering and technical assistance in business management. Mozambique, Benin, Togo, Senegal, Mali, Morocco, Vietnam and Brazil are some of the countries where he has worked in the past three years.

He has published several books and articles on the development of water utilities. As such, his support to the OpT International Executive Master will enable the examination of a wide range of case studies that he has encountered in the field and has sometimes solved and what has happened since.

Fatima CARTEADO

Fatima CARTÉADO holds a degree in Urban Utility Management from the University of Loughborough (UK) and a civil engineering degree from polytechnic School of the Federal University of Bahia (Brazil). Her 30 years of experience make her an expert in the water sector and the management of utility companies. She has headed projects in technical assistance and customer management for public and private operators but has also carried out more specialized appraisal work on reducing non-revenue water and implementing quality plans on this issue. After holding various positions of responsibility for a dozen years with the water utility department of the state of Bahia, she has carried out various technical assistance assignments – particularly in Africa – on behalf of the Overseas Development Association (ODA), run by the British Government. She has worked in many development and developing countries including South Africa, Australia, Brazil, China, Colombia, France, Haiti, Jamaica, Laos, Morocco, Mozambique, Nigeria, Peru, The Philippines, Portugal, Uruguay and Venezuela.

She currently runs her own consulting company in Brazil: MF&E Engenheiros Associados

Philippe MAPPA

Philippe MAPPA has a Master in Hydraulics and Fluid Mechanics.

He began his career at SUEZ in South America in Argentina, Bolivia and Chile from 1995 to 2002.

In September 2002, he leaves for Puerto Rico. In 2004, he returned to France in Lyonnaise des Eaux de Bordeaux is one of his missions fulfilled: unprofitable water project management From 2010 to 2015, he is posted in Asia (Indonesia and India) where he continues between the other project on "unbilled water project management"

For 3 years, he worked at LYDEC, subsidiary of the SUEZ group in Morocco, as Director of Water and Sewer Operations Then he was promoted Director Networks and Laboratories

Since October 2018, he has held the position of Senior International Project Manager – Water Network within the "Innovation and Industrial Performance" division of the SUEZ Group.

Claude MÉNARD

Claude MÉNARD is professor (emeritus) in economics at the University of Paris (Panthéon-Sorbonne) and senior researcher at the Economic Centre of the Sorbonne (CNRS). He is also a senior research fellow at the Delft University of Technology and at the CORS (University of São Paulo). Before being affiliated with the Sorbonne, he taught and did research in Canada (his country of origin) and The Netherlands, and he has been visiting professor in numerous universities worldwide. He has published extensively in reputed international journals, as well as several books on the economics of organization and institutions, on regulation, and on the economics of infrastructures (a list of his publications can be found on http://claudemenard.net). He has also worked extensively for several public and international organizations, particularly with the French and Canadian government, and for the World Bank and the OECD, on issues of governance, development of infrastructures and public contacts. In that context, he worked as an expert in several countries, mostly in Africa and North and South America and to a lesser degree in Asia.

Marine COLON

Marine COLON is a water and environmental engineer, and has been holding the position of teacher and researcher at AgroParisTech and UMR Gestion de l'Eau, Acteurs, Usages (a pluridisciplinary research laboratory on water based in Montpellier) since 2014. She specialized in water and sanitation utilities' management through a 6-year experience in consultancy for water utilities in France and a research experience. In 2014, she defended a PhD in management sciences on the reform of water and sanitation utilities in Uganda and Phnom Penh at AgroParisTech / UMR G-EAU (based in Montpellier). This work has been supported by the Chaire Suez ParisTech Water for All. She contributed to projets in Burkina Faso, India, Uganda and Cambodia. She researches on institutional changes and the development of performance tools. Since 2017 she monitors data on the market for water concessions in France for the French Biodiversity Agency.

She graduated from the Ecole Nationale du Génie des Eaux et de l'Environnement de Strasbourg (France, 2002),the MSc Engineering for Developpement from the University of Southampton (UK, 2002), the Ecole Nationale du Génie Rural des Eaux et Forêts / Agroparistech (2010) and the Master in Public Management from the University of Nanterre / ESCP-EUrope/CGS Minesparistech/CRG Ecole Polytechnique / ENA (2011).

Richard FRANCEYS

Richard FRANCEYS directs the Global Water Policy and Management MSc program in Cranfield University (UK). He specializes in management issues, institutional development and finance for the water supply and sanitation sector to deliver universal service in middle and low-income countries with a particular focus on the needs of the poor. Areas of interest include commercialization and tariff development, economic and financial analysis, institutional analysis, change management of water utilities and public private partnerships, customer involvement and economic regulation.

He is a Regional Member of the Consumer Council for Water, the statutory customer representatives in England and Wales, having earlier spent nine years on Water Voice Central, one of regulator Ofwat's Customer Services Committees.

He is an Advisory Board Member, Global Development Solutions for the International Water Association and has been closely involved in the establishment of WSUP (Water and Sanitation for the Urban Poor.com) and was co-initiator of the Change Management Forum in India.

Jacques LABRE

Jacques LABRE has more than 40 years of professional experience in water management. His experience covers Water and Sanitation, Water Resources Management and related infrastructures, Irrigation, Private Sector Participation, Regulation of Utilities, European Legislation, and Management of Engineering Firms.

He is a graduate form Polytechnic School of Paris and ENGREF (National School of Rural Engineering water and Forestry).

He works now as an independent consultant. Previously, he has spent 14 years with Suez Environment's overseas activities. Before joining Suez Environment, his career has been shared between the public and the private sectors, including engineering consultancy as Deputy General Manager of SAFEGE Consulting Engineers.

He gives lectures and courses in different academic institutions such as AgroParisTech, École Nationale des Ponts et Chaussées and École Centrale de Paris (France)

Sébastien CHAZOT

Sébastien CHAZOT is an Agricultural engineer and graduated from the National School of Rural Engineering, Water and Forestry (ENGREF). He is also a Project Manager specialized in Quantitative Management of Water Resource Engineering at BRLi.

His training led him to work in France and abroad , in many water resource management projects combining environmental issues , agriculture , combining technical aspects (hydrology, optimization management selected , …), strategic ( agricultural development, integrated water resources management , land management , workshop facilitation prospectively ) and aspects of cooperation and communication (animation numerous workshops and meetings) .

Denis DESILLE

Denis DESILLE is Task Team Leader in the Water and Sanitation Division for the French Development Agency. He has 10 experience in the water and sanitation sector in sub-Saharan Africa, project cycle management, relationship management and partnerships with various stakeholders (NGOs, consulting firms, development bank and elected representatives and ministries) as well as knowledge production and management for innovation.

He specializes in the design and implementation of policies and strategies related to water and sanitation, the development of regulatory frameworks for water services in small towns and peri-urban areas, writing and editing working papers and research, assessment of water services (technical and financial issues) and technical design of water supply systems

Claude JAMATI

Claude JAMATI worked for 18 years in engineering (transport infrastructure and urban infrastructure projects) at the international level, as an engineer, project manager and then department director. This career has continued for 16 years with water operators working in France and abroad. For 5 years he led the development of the Suez Environment Group in Morocco (1999-2004): PPP mounts in the fields of water, energy and solid waste. Since 2004, he has specialized in the institutional and operational improvement of water and sanitation services. He has worked as an institutional expert at the World Bank Institute (WBI) between 2005 and 2008, for the International Finance Corporation (IFC) between 2006 and 2009 and as a project manager in support of SMEs for the Center for Development of the World Bank. Company (European Union) between 2009 and 2012 in 7 African countries. He is a lecturer at the University of Rennes in France, Institute of Political Studies (Master in Engineering Urban Services Network).

Jan JANSSENS

Jan JANSSENS is the Managing Director of JJC Advisory Services, a Swiss-based consulting company. Her main area of ​​expertise is strategic advice and capacity building for institutional reform of the water sector, water services development and public-private partnerships (PPPs). He has more than 35 years of experience in the water and sanitation sector, in projects for major international financial institutions, including the World Bank, the European Investment Bank and local actors ( governments and public or private operators). He has led numerous PPP projects and consultancy assignments in water infrastructure and has worked in sub-Saharan Africa, North Africa, the Middle East and Asia. He is also a member of the AIT Advisory Group for Low and Middle Income Countries (LAMIC) and the International Council (IC) of the American Water Works Association (AWWA). In 2008, he received the Honorary Membership Medal from the African Water Association (AFWA). In 2010, he became an Honorary Associate of the UNESCO Center for Water Law, Politics and Science (University of Dundee, Scotland, United Kingdom). He holds an MBA from Vlerick Gent-Leuven Business School and was a student at IMD Lausanne.

Éric de la GUÉRONNIÈRE

Éric de la GUÉRONNIÈRE has been with Suez Environment for more than 20 years; currently Director of Training and Skills Development and he is responsible for: Development and porting of Suez Environment's business training offer, Animation of the Suez Environment training network, Management of training topics integrated in partnerships with engineering schools and Interface with GDF Suez training facilities. Over the last ten years, he has developed and managed the annual training plans related to the development of the Company's ambitions and the Lyonnaise des Eaux Internal Training Center and the International Center for Development and Training. Because of this background, he has an in-depth knowledge of all the positions and functions within the water and sanitation department, be it technical, financial or commercial, but is also experienced in human resources management and the staff of a service operator (management methods, organization of organizational charts, productivity, health and safety, staff law, etc.). He also held very different positions in water service management for new construction, as well as for improving the performance of production units, as well as in industrial IT, which led to led to create the reference skills of his group.

Lucie GASMI

Lucie GASMI is a graduate of the Institut de Sciences Politiques de Strasbourg, the University Paris Dauphine and the Ecole Normale Supérieure de Cachan. She is an expert in human resources in Algeria, for the company Suez Environnement.
She has held various positions in human resources (international mobility specialist, training project manager, HR manager, skills expert), in several large industrial and service companies (Arcelor, Degrémont, Suez Environnement), in Europe and North Africa.
For 10 years, she has been building and implementing HR processes adapted to various business challenges, different cultural contexts, changing corporate cultures and different HR organizations. In Algeria, it is implementing a very innovative initiative of know-how transfer, to mobilize local teams, modernize managerial practices, and support the autonomy of the Société des Eaux et de l'Assainissement d'Alger. She is Human Resources Director for IWS Chemicals Europe within the SUEZ Group in Paris.

Emmanuel DESO

Emmanuel Deso was commercial manager and in business. Fascinated by the management of men and women, he specialized in the behavioral approach. Manager of the company Thuban Consultants, he transmits his managerial skills for 20 years at companies wishing to train their managers to the revitalization of the operational teams. He is certified in coaching and team coaching with LKB School of Coaching (Lynne Burney, co-founder of the French Society of Coaching) and on Success Insights tools: DISC (typologies behavioral – Marston), Wpmot (motivators) PTSI (skills and talents), EQ (Emotional intelligence). It is also certified on "Perspectives on Self" tool (360)

Mathieu LE CORRE

Mathieu LE CORRE is Project Manager for the GRET since 2011. He has been working in water and sanitation for more than 15 years in developing countries (living experiences in Mauritania, Nicaragua and Madagascar as well as short periods in many other countries). Based on his engineering degree specializing in water management and the environment, his experience led him to understand the technical, economic and organizational specific problems of water and sanitation projects. As an engineer, he sized appropriate water and sanitation systems and formed the water service staff in secondary cities. As a consultant or project manager  it is implementing a demand driven approach and seeks to establish professional management and contract- systems based on local participation at Community and communal . Today he is responsible for water and sanitation projects GRET in Cambodia, Madagascar and the Democratic Republic of Congo.

Joannie LECLERC

Joannie LECLERC graduated from the Institute of Political Studies in Grenoble and holds a DEA in public policy analysis. She began her career as a public affairs consultant and spent more than 6 years in the international firm Burson-Marsteller. Specialist in environmental policies and consultation, she accompanied major industrial players in their institutional relations and change management related to the emergence of social and environmental responsibility issues. As a Client Manager, she initiated and developed B-M Europe's network of expertise on Corporate Social Responsibility. Since 2005, she has supported SUEZ ENVIRONNEMENT's thinking and actions in the area of ​​CSR, before becoming, in November 2011, responsible for the "dialogue with stakeholders" program within the Societal Relations department. Since January 2014, she is Head of Dialogue and Governance in the Sustainable Development Department.

Thomas LE JEUNE

Thomas Le Jeune is a water and environmental engineer (ENGEES), with complementary training in management and financing of water and sanitation services (MSc Water Management, Cranfield University), Thomas first worked for various structures (NGO, delegated company) in Morocco, Brazil and Cambodia on engineering topics of water services. He then joined a consulting firm in public utilities management, within the Water and Sanitation division to specialize in project management assistance for public stakeholders in France and the French Overseas Departments (audit technical, organizational and financial services, study of choice of management methods, public-private contracting, assistance to the optimization of public companies, financial and tariff analysis).

Since 2015, Thomas has been working as a project / studies manager at GRET's Drinking Water, Sanitation, EPAD Waste Program. He is in charge of setting up, implementing and monitoring multi-year projects to improve access to water and sanitation, particularly in Mauritania, Senegal, the Comoros and Myanmar. It also carries out expert missions on the organization and financing of water and sanitation services.

Maëlis MONNIER

Maëlis MONNIER has a Bachelor Degree from Sciences Po Lyon in Public Policies, and a Postgraduate degree from SOAS, the School of Oriental and African Studies on natural resources management. She is currently project officer for Dialogue and Societal Impact at SUEZ. She works both at corporate level (stakeholder panels, partnerships management, multi-actor Initiatives) and at the project level (territorial analyses, dialogue and consultation activities…). Previously, she has worked at Lydec headquarter, (SUEZ subsidiary) in Casablanca, Morocco, as Governance and Innovation officer.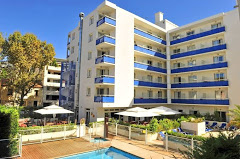 Residence Goélia Sun City – Montpellier***
You will be accommodated in a fully equipped individual studio. The residence is a 10-minute walk from all the facilities of Montpellier city centre.
A shuttle bus will pick you up and bring you back to the AgroParisTech centre in the morning and evening.
https://www.goelia.com/fr/residence-vacances/montpellier/goelia-sun-city
You must be a manager of urban drinking water or sanitation services, of public, private or mixed status.
You may come from a Ministry in charge of water, sanitation or hydraulics, a regulatory body or a heritage company.
You must have a BAC+5 or possibly a BAC+4.
You must have significant experience in a position of responsibility within your department for at least 5 years.
Your objective must be to improve the quality of the services offered within your entity from an operational and/or managerial point of view.
You must have the endorsement of your management to follow the training, which must have entrusted you with a mission of change management within your company.
You must have a very good level of both oral and written English.
Testimonials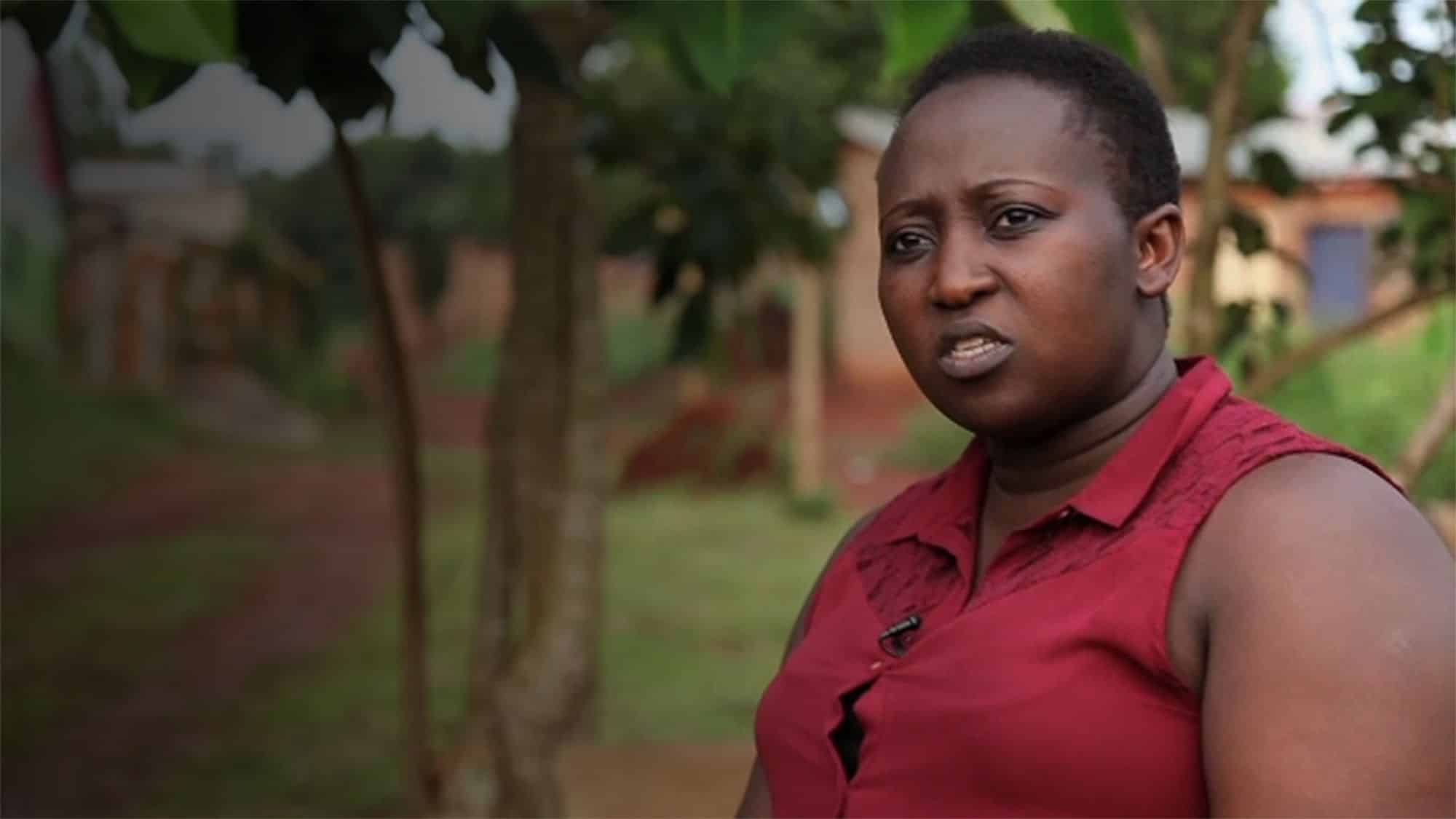 "This training is very interesting, very different from what we know academically. It's a very pragmatic master's degree… allowing me to learn from experiences in other countries."
Freda BUGENYI
Manager and Senior Engineer-NWSC-Kampala (UGANDA)
Financial support
The chair can help you to find funding for your training grant (18,000 euros) or your life grant (14,000 euros).
Joint approaches can be made to the financial sponsors who work with your company.
They trust us