Jean Antoine Faby, Chair Director, Maria Magaña, MS OpT Academic Manager and Wilfried Ligan, Finance Manager, welcomed to Paris for 4 days the 8 representatives of the 4 "Centers of Excellence" working in close collaboration with the AgroParisTech – SUEZ "Water for All" Chair.
Mrs Leonidah Kerubo and Mr Thomas Mbuya from the University of Nairobi (Kenya)
Professor Sampson Oduro-Kwarteng and Professor Helen Essandoh from the Kwame Nkrumah University of Science and Technology in Kumasi (Ghana).
Mrs Pinnara Ket and Mr Chantha Oeurng from the Cambodian Institute of Technology in Phnom Penh (Cambodia)
Professor Mamadou Lamine Ndiaye and Professor Ndiaga Ndiaye from Cheikh Anta Diop University in Dakar (Senegal)
Over the course of 4 days, they will present and discuss the strategy of their respective universities on the themes of water, sanitation and solid waste.
The strengthening of the partnership between them and AgroParisTech through the "Water for All" Chair will enable our African and Asian auditors and students to pursue university courses in these 4 countries.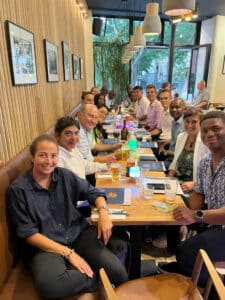 Our 8 representatives took advantage of a dinner to meet the General delegate of the SUEZ Foundation, Muriel Leroy, and SUEZ's new Science and Technology Director, Guillaume Stahl, who was accompanied by his predecessor Xavier Litrico.