Integrity, corruption and ethic in the water and sanitation sector at Brussels
Our capacity building seminars are dedicated to General Managers and Top Managers of water and sanitation utilities to help them better project themselves into the future in the short and long term. These seminars are offered to them to renew their ways of doing things, to update them, to make them more relevant, to increase …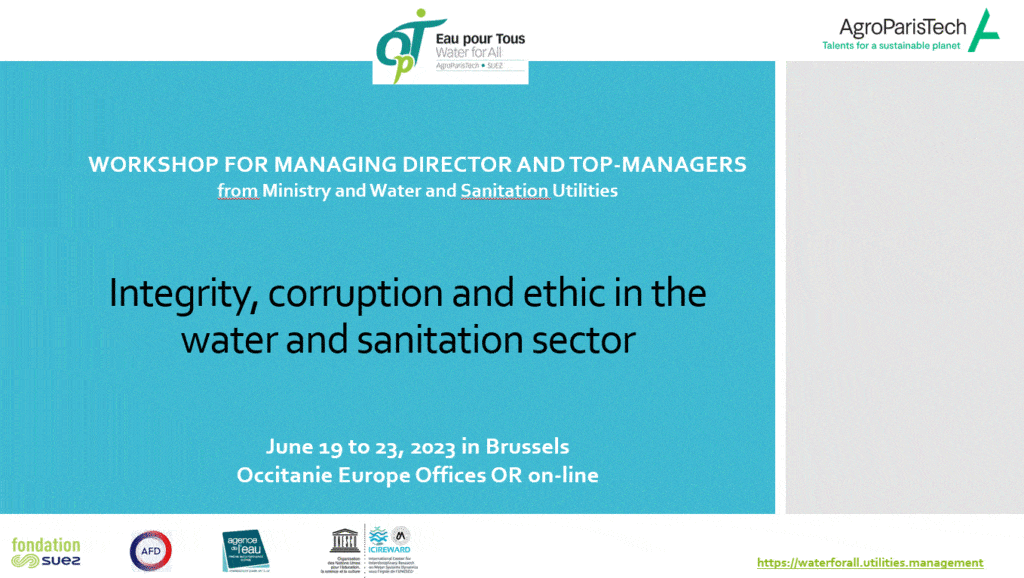 Presentation
Our capacity building seminars are dedicated to General Managers and Top Managers of water and sanitation utilities to help them better project themselves into the future in the short and long term.
These seminars are offered to them to renew their ways of doing things, to update them, to make them more relevant, to increase their capacity to deal with complexity.
You can become a partner of the Chair and finance DGs or top managers from countries that interest you in order to create lasting relationships around water and sanitation
Feel free to dowload our partnership file
For whom?
Training sessions dedicated to Directors and managers of public services, administrations, investors, development banks, equipment manufacturers, financial inspectors and controller, etc
Head of services
Managing directors
Managers of regulatory authority
Secretary of State
Operational managers
Training benefits
Urban public services are framed by governance and institutional frameworks that require specific skills in :
Mediation
Negotiation
Ethic
Anti-corruption
These components are an integral part of the know-how of leaders and managers who are confronted with complex situations related to internal stakeholders in public companies (HR management, organization, purchasing, financing management, customer management, subcontractor management, etc.) or external stakeholders (government, financial investors, donors, development banks, etc.).
The "Water for All" Chair on the general management of water and sanitation services proposes through this workshop to :
Draw on an international network of experts with experience who have been confronted with critical situations in the field, requiring sharp "soft power" practices and codes of conduct
Know how to manage integrity within companies, with internal or external actors and human resources
Manage the risks inherent in any large-scale project that requires transparency and solidarity of the actors to 'stay the course' and achieve its objectives
Knowing how to negotiate and take the time to make your actions succeed while being backed up by a commitment to anti-corruption
This is in line with the skills that the "AgroParisTech-SUEZ Chair" disseminates to all the leaders and managers it has trained for 14 years in 54 countries around the world, through all its programs (https://waterforall.utilities.management ). The cases dealt with during the workshop will be related to water and sanitation, but also to other types of public policies or public companies, particularly in Africa, Asia, Central Europe, etc.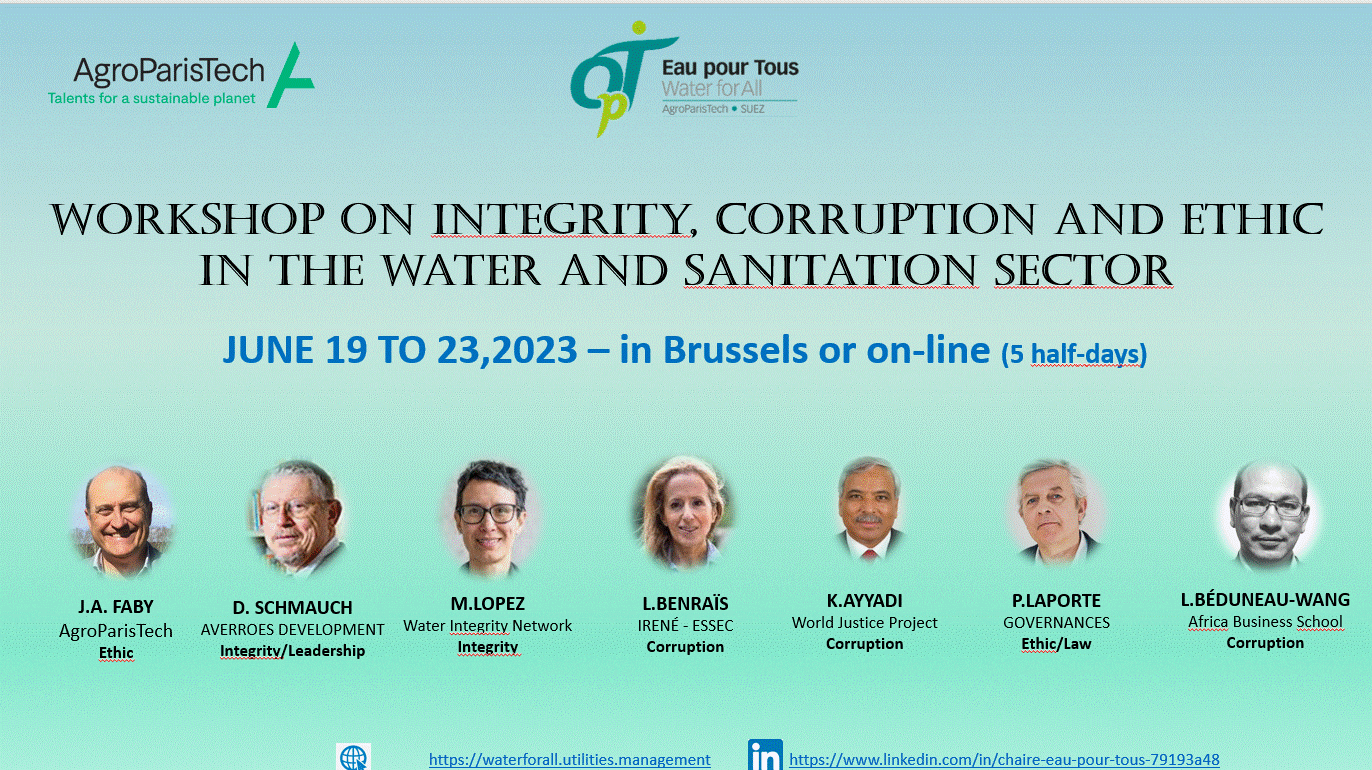 Training contents and sessions
This seminar is dedicated to decision-makers, Top managers of the urban water supply and sanitation services and to high potential executive from Ministry.
INTEGRITY, CORRUPTION AND ETHIC IN WATER AND SANITATION SECTOR
GENERAL ORGANISATION
1-Organisation for participants in Brussels
All morning presentations are made by speakers present in Brussels face to face with the group present
Each afternoon, work groups will take place to target issues, obstacles, critical cases, and scenarios to be shared with the experts in the session or in the face-to-face mornings.
2-Organisation for participant on-line
Cost for 5 half days: 1,150 euros
On-line session will take place from Monday afternoon to Friday morning  from 9.30am to 12.30pm (3 hours) upon
Online participants may have one hour each morning or afternoon to:

Present issues related to the seminar on concrete and real-life cases
Search for solutions with the group and the experts (afternoon or morning responses)
Day 1: Monday June 19 – 2.00 to 5.00pm

Speakers: Jean Antoine Faby from AgroParisTech and Dominique Schmauch from Averroes Developpement
Presentation of the workshop objectives and working methods – Expectations of the directors and managers present
Presentations of the institutions and experts present (physically or online)
Terminological frameworks and definitions of the concepts studied European Union charters and codes of conduct (standards)
Leadership / Law / Integrity
Day 2: Tuesday June 20 from 9.30am to 5.00pm

Speaker: Marcela Lopez from the Water Integrity Network (WIN)
Morning session
WIN tools and studies in the field of water and sustainable development
WIN studies and research
Strategies and practices for achieving greater integrity
Afternoon session
Group work based on interactive models of collective intelligence and bringing out problems and obstacles to projects related to the morning session
Active search for solutions according to the objectives set at the beginning
Issues of struggle and balance in management within the public utility (case of water services)
Sharing with the expert or experts present according to the morning's interventions
Situations: what responses, what postures in real situations
Day 3: Wednesday June 21 from 9.30am to 5.00pm
Speaker: Linda Benraïs from IRENÉ-ESSEC
Morning session
IRENE-ESSEC's intervention frameworks and fields of expertise
How to combine 'Critical Situations – Negotiation – Ethics – Search for sustainable solutions' to build trust and progress.
Case studies and programs managed by IRENE-ESSEC
Sharing with the audience
Afternoon session
Group work based on interactive models of collective intelligence and bringing out problems and obstacles to projects related to the morning session
Active search for solutions according to the objectives set at the beginning
Issues of struggle and balance in management within the public utility (case of water services)
Sharing with the expert or experts present according to the morning's interventions
Situations: what responses, what postures in real situations
Day 4: Thursday June 22 from 9.30am to 5.00pm

Speakers: Kamel Ayyadi from World Justice Project and Pierre Laporte from GOVERNANCES
Morning session – interaction with the audience

Real-life cases and experiences
Search for solutions
Risk management and consequences in the choices
Afternoon session
Group work with the 2 experts on concrete cases proposed by the participants
Role playing
Day 5: Friday June 23 from 9.30am to 12.30pm – on-line session

Speaker: Laurent BÉDUNEAU-WANG from Africa Business School in Rabat
Knowing China and Asia: relations with Africa / major projects and investments
How to negotiate with Chinese investments in Africa
Practical cases and scenarios
Outcome of the workshop
Creation of the Brussels Club
description du partenaire/accréditeur